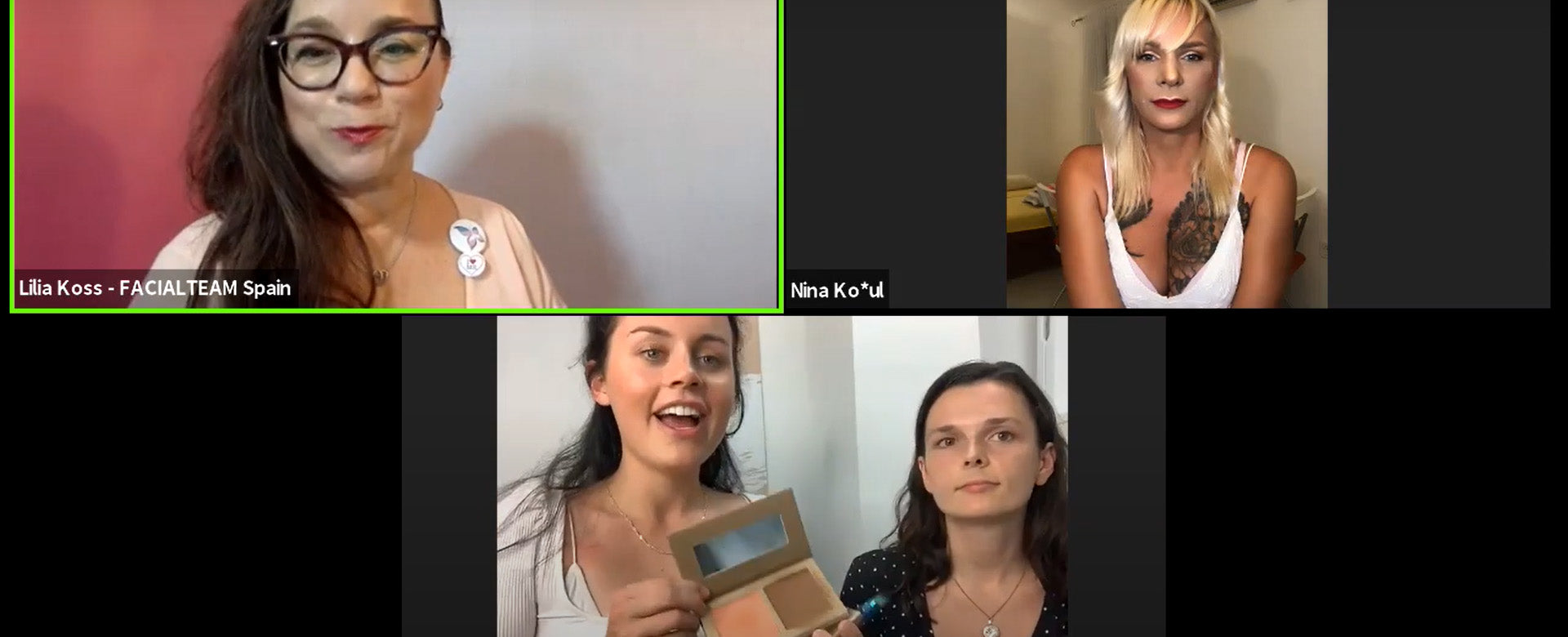 FACIALTEAM X Jecca Blac || Discussing Makeup & Surgery!
Hello everyone!
Today we would like to share with you all our collaborative livestream with FACIALTEAM, a multidisciplinary surgical group offering facial feminization surgery. In the two-part live series by FACIALTEAM, we offered some quick coverup tips alongside Berlin makeup instructor, Nina Kozul. Watch it back here!
Check out our makeup tutorial with FACIALTEAM on how to conceal bruising after facial feminization surgery.
This livestream forms part of the weekly Wednesday series by Lilia Koss, community manager for FACIALTEAM. Our Founder, Jessica, and Marketing Assistant, Maxine, talk about one of the challenges faced by trans women after having facial feminisation surgery: how best to cover the bruising, for example, after a rhinoplasty or brow shave.
Jessica tells us how the Correct & Conceal Palette was designed specifically for the purpose of correcting undertones in the skin. It was Jecca Blac's first ever product to launch, and won 'Best Concealer of 2020' at the Beauty Bible awards! Available in 6 different shades and with a cream-based consistency, it was originally developed to cover beard shadow.
However, as a buildable product which can be layered with others if needed, it is also perfect for hiding any discolouration due to facial surgery. The Palette provides the skin with a natural-looking finish, thanks to its smooth texture which gives medium-to-full coverage. As well as concealing imperfections, the Correct & Conceal Palette is ideal for covering the typical postoperative bruising with bluish undertones that may be present after facial gender-affirming surgery.
FACIALTEAM recommendations for coverup makeup
FACIALTEAM has indicated that makeup application for bruising and scar coverup is fine 1 week after surgery, whilst avoiding any incisions that may not have closed completely. The team draws special attention to caring for your skin after surgery, especially areas where there may be incisions or bruising.
"Avoid sun exposure to the surgical area for six weeks and in the meantime, use sunscreen, even on cloudy days, on bruising and incisions for at least one year. This will improve the quality of the scar and help it fade over time. Sun exposure causes skin damage, which leads to early signs of aging."
In the livestream, Jessica demonstrates how to get the most out of the Correct & Conceal Palette, by first starting with the 'Colour Corrector' part of the palette, which has a peachy tone and will make any blue undertones in the skin appear neutral. Layering this with a brush in the under-eye area, for example, patients may build up the product by focusing on brightening any dark areas. This is then followed with the 'Concealer' part of the Palette which helps to blend the 'Colour Corrector' shade with the rest of the face. The same brush is used with the 'Colour Corrector' and the 'Concealer', just patting gently one layer over the other. Stippling the product on top works best when layering makeup products, as it won't move the 'Colour Corrector' pigment which has been applied first.
This combination of a peachy based color-corrector and overlying concealer works great to dissimulate the skins dark undertones, as demonstrated in the livestream. It is an easy and transferable method that can be employed for beard shadow, bruising or even dark circles. As seen in the tutorial, this two-step colour correction plus concealer is a time-saving and effective solution to mask minor imperfections while healing from surgery.
Social Responsibility in Business collaborations
During the live stream, we discussed other ways in which Jecca Blac supports the trans community, such as with the Trans Festival in London. With its inauguration in 2020, Trans Festival is a yearly event for trans people and allies to come together, hear guest speakers, and learn about services available specifically to trans patients and consumers.
Although the 2nd Annual Trans Festival is being delayed due to travel-related restrictions, Jess and Maxine look forward to the return of Trans Festival in Autumn of 2021, which FACIALTEAM hopes to take part in.
We hope you've enjoyed hearing top tips from the experts, for more livestreams on the topic of facial gender surgery, visit FACIALTEAM for more information and follow @facialteam on Instagram.